Although it was a commercial failure, BMW 507 was always remembered for its beautiful styling by Albrecht Goertz. As only 253 cars were built, today it becomes the most desirable post-war BMW to car collectors.

The 507 was born at a difficult time - when BMW was close to the edge of bankruptcy. To increase sales, on the one hand the company launched the Isetta micro car, on the other hand it decided to build a high-end sports car to take on the prosperous American market. This idea actually came from Max Hoffman, an American importer of various European sports cars. He persuaded BMW to develop the 507 and employed a young German-born American designer, Albrecht Goertz, to style the car. Goertz did not disappoint. He gave the 507 a memorable shape with an unusually sleek profile, low and flowing waist line. It looked so different from contemporary roadsters.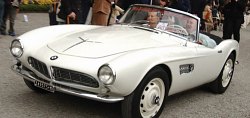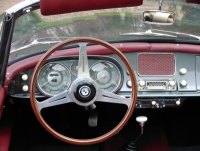 Mechanically, the 507 looked promising from the specifications: lightweight aluminum body, a 3.2-litre all-alloy V8 (adapted from 503 sedan), 4-speed synchromesh ZF gearbox, forged front suspension wishbones... but the engine produced only 150 horsepower, while the car was quite overweight (at 1330 kg). That means while the factory claimed 136 mph top speed, in reality it was more likely to be 125 mph. 0-60 mph took a modest 8.8 seconds.

Worst of all, the car was seriously overpriced - at US$11,000, it was considerably more expensive than the more powerful rivals like Mercedes 300SL, Jaguar XK140/150, Aston Martin DB4 and actually matching Ferraris ! No wonder BMW struggled to sell this car. Eventually, after 3 years and 253 cars built, the 507 went into history.