We said 2002 series was the turning point of BMW's history. It found the winning formula for BMW - compact sports sedan - and set new sales record, with 850,000 units sold. But BMW did not rest on the laurel. By the time 2002 was cruising to sunset in the mid-70s, a greater successor was on the pipeline. That was the 3-Series.

Now we know the 3-Series was the most successful model in BMW's history. In 30 years and 4 generations, some 9.5 million units were sold. That accounted for more than half the sales of the company ! It was so popular because it set new standard in driver appeal and quality while providing decent practicality. Most crucial, such qualities can be obtained without costing a fortune. Unquestionably, the 3-Series was a premium price vehicle, but it cost no more than a big Ford or a big Citroen. Plenty of people were willing to sacrifice space for the incomparable driving excitement and premium feel it offered. No other cars had achieved this before. Even though Mercedes joined the race in the mid-80s with 190E (later became C-class) and Audi entered A4 in the mid-90s, the 3-Series remained the benchmark of the class it created.

E21 (1975-82)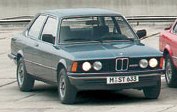 Compare with its predecessor 2002, the first generation 3-Series grew longer and more sporty in appearance. However, it was still a compact sports sedan with 2 doors only (4-door version didn't arrive until the second generation). The biggest advance over the 2002 was the all-independent suspensions with MacPherson struts up front and semi-trailing arm at the rear. The latter replaced the rigid live axle. Early engines were derived from its predecessor, such as the 90hp 1.6, 109hp 2.0 and 125hp 2.0 fuel injection engines. They were called 316, 320 and 320i respectively. Note that a new naming system was used in this car - started from a single digit series number and followed by two digits representing engine capacity. Since then BMW named its model families as 3-series, 5-series, 6-series, 7-series...

The early E21 was loved for good handling and a modern dashboard with a driver-oriented center console (this would be a trademark for BMW's interior in the following 20 years). Because the car got heavier, performance was actually a bit down on the 2002. Therefore, 2 years after launch, BMW dropped a pair of straight-6 into the car - the 122hp 320/6 and 143hp 323i. While 320/6 was criticized for being too slow, 323i immediately became the icon of BMW. Its performance and smoothness were beyond the approach of competitors. In fact, the trend-setting BMW did not have any direct competitors. In its 7 years life, 1.36 million units were sold, easily beating the record of 2002.

E30 (1982-90)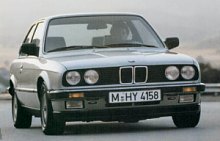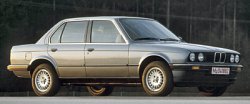 E30 was a refinement of E21. It kept the compact size unchanged and carried over the suspensions from E21. The major difference was a much modernized shape and upgraded build quality, both were necessary to face the challenge of the forthcoming Mercedes 190E. The premium car image took shape in this generation.

Initially, E30 carried over the engines from E21. Later, the now famous 323i label was replaced by an even more desirable label, 325i. The larger engine mated with the latest Bosch Motronic engine management system to produce 171hp. It enabled the 325i to sprint from 0 to 60 mph in 7.4 seconds and strengthen the performance image of 3-series. On the other hand, the volume model 318i got a new M40 1.8-litre four-cylinder engine with 113hp.

In the E30, 4-door version was added to the 3-Series for the first time, as were the Touring (estate), Convertible and M3 (we'll talk about it in a separate article). Now the 3-Series grew to a big family, no wonder sales increased 63 percent from the first generation.

E36 (1990-98)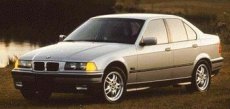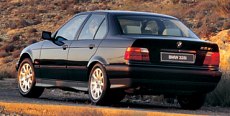 After the evolutionary E30, the original platform got outdated and needed a complete renew. Therefore BMW launched the all-new E36 3-series in 1990. This car grew a lot in size - 120 mm longer, 57 mm wider and 130 mm longer in wheelbase. This mean the E36 had even shorter overhangs and more interior space than its predecessor. The engine located further back in the chassis, allowing 50:50 weight distribution to the smaller engine models. The chassis was not only much stiffer but had all-new Z-axle rear suspensions. This gave it superb ride and handling.

In the engine side, the 316i received a new 102hp 1.6-litre engine; the 318i continued to use the 113hp M40; 320i and 325i had their straight-6 upgraded to 24 valves, producing 150hp and 192hp respectively. In 1994, 325i was upgraded to 328i. Its 2.8-litre engine got just 1 more horsepower but considerably more torque and an aluminum block for the first time. Meanwhile, the 2.5-litre engine was detuned to 170hp and rebadged as 323i. This broke the traditional naming system according to engine capacity and confused many people.

Unlike the first two generations, the E36 was initially available in 4-door form. The 2-door joined 2 years later, and it was called "3-Series Coupe" because it got a lower roof, more steeply raked windscreen and other styling tweaks to distinguish from the sedan.

Another new variant was the 3-Series Compact, a hatchback version created to cover lower price segment. However, this car was never popular because it could not match a regular front-drive hatchback for space efficiency. After trying in the E36 and E46, BMW finally pulled the plug of the Compact and simply went to develop 1-Series and Mini.

E46 (1998-2005)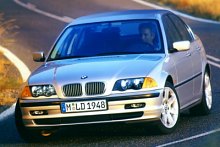 When BMW developed the fourth generation 3-Series, it had got a lot of competitors. Cars like Mercedes C-class, Audi A4, Alfa Romeo 156 and Lexus IS joined the segment. BMW knew it had to upgrade build quality and refinement to keep its leading position. Therefore the E46 concentrated on refining the basic architecture of E36. It got an upmarket look, classy interior materials, better sound insulation, better isolated suspensions (via improved subframe and aluminum suspension arms), a 70% stiffer chassis and twin-balancer shafts to the 4-cylinder engine. It became so refined that journalists described it as a mini 5-Series.

The car grew a little from its predecessor - 26 mm longer, 37 mm wider and 25 mm longer wheelbase. This brought more space to the cabin again. On the other hand, wider tracks improved handling a little, although the heavier body and better isolation led the drivers felt less exciting subjectively.

Initially, E46 had its 2.5-litre and 2.8-litre straight-6 upgraded to Bi-Vanos (i.e. adding VVT to the exhaust side). This brought more low speed torque but no more maximum output, thus the early E46 was slower than the car it replaced.

By 2000, the 193hp 328i was upgraded to 231hp 330i as BMW introduced the new M54 engine. Performance improved a lot. Now 330i became a performance icon. Meanwhile, 323i had its 2.5-litre engine tuned to 192hp and renamed back to 325i.

Next year, the new generation Valvetronic four-cylinder engine made its debut in the 318ti Compact.

After 3.1 million units built, the E46 was replaced by E90 in early 2005.

E90 (2005-2011)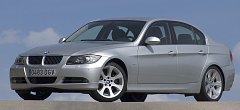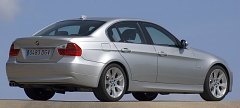 The E90 was designed during the tenure of Chris Bangle as BMW's design chief. This means it had a certain degree of oddity in its look. Objectively speaking, it was probably better than the last E46. The new car grew slightly larger again in all dimensions to achieve more cabin room, including 25 mm of desperately needed rear legroom. Its chassis was 25% stiffer than before, yet the whole car was slightly lighter. Such were the signs of progress.

To help reducing costs, some 40 percent of components were shared with its new brother, 1-Series. These included the new 5-link rear suspensions (replacing Z-axle), Valvetronic engines and 6-speed transmissions. All engines got more powerful yet drank less fuel. New N52 3.0-liter straight-six employed an innovative magnesium crankcase to cut weight. It initially produced 258 hp, then increased to 272 hp when direct injection entered the scene in 2007. The same year introduced a new range topper, 335i. It used a twin-turbo version of the 3-liter engine good for over 300 horsepower. 0-60 mph was accomplished in merely 5 seconds, strong enough to threaten the outgoing M3! Moreover, its performance was delivered in a much more effortless way.

The E90 did not forget handling either. Its 50:50 weight distribution was achieved by placing the engine further back than other FR saloons. Its front suspension and front subframe were constructed in lightweight aluminum. The battery was placed at the boot. All these measures helped it to achieve a balance and agility not found in its rivals or any mainstream 4-door sedans, even though fans of the old car might criticized that BMW had deliberately built more understeer into the chassis to please ordinary drivers.

Ultimately, it could not match the sales record set by E46, but that was just because BMW had introduced 1-Series and X3 to reduce its reliance on the 3-Series. Now looking back, the E90's only problem was just its slightly strange looks.