BMW 328 (1936)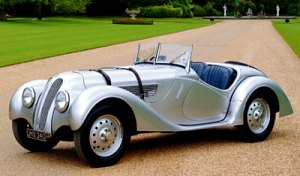 BMW 328 was one of the stars of pre-war sports cars. It was very versatile - superb handling, good engine, good performance, practical and durable. Few pre-war sports car could be more satisfying to own and drive regularly.

Unlike contemporary fashion, BMW 328 emphasized on lightweight and aerodynamics - both learned from the company's aero engine division and motorbike experience. The chassis was constructed by tubular steel backbone, the bodywork was made of aluminum like aircraft so that not only lightweight but also free of corrosion - a delight for today's car collectors.

Innovation can also be found under the bonnet. The 2-litre straight-six featured advanced hemispherical combustion chambers. However, to prevent from excessive cost and complexity of using twin camshafts, the inclined valves were driven by a single camshaft via cross-pushrods, which was a very clever compromise. 80 horsepower output was very useful for a car weighing just 830 kg and enclosed with a wind-cheating body.

However, compare with the handling, this is nothing at all. Because of lightweight, because of the independent front suspensions, 328 set standards of roadholding, cornering and handling precision which had been seldom known before, at least in Germany. It was not as quick as thoroughbred racing cars like Alfa Romeo 8C 2900, but considering the BMW's affordable price, reliablity and everyday practicality, it could be the best sports car of the 1930s.

Specifications
| | |
| --- | --- |
| Model | BMW 328 |
| Year of production | 1936-40 |
| No. produced | 464 units |
| Layout, Gearbox | Front-engined, Rwd, 4M |
| Engine | Inline-6, ohv, 2v/cyl |
| Capacity | 1971 cc |
| Power | 80 hp |
| Torque | N/A |
| Weight | 830 kg |
| Top speed | 93 mph |
| 0-60 mph | N/A |
---
Copyright© 1997-2009 by Mark Wan @
AutoZine