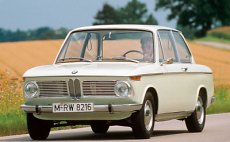 2002 series was probably the most important model in BMW's history. In the early 60s, although small cars like Isetta, 600 and 700 kept the Munich company alive, its image was mushy and financial outlook was still poor. It was the 2002 series that changed its fate. This little 2-door sedan redefined the image of BMW. It combined powerful engine and agile handling with solid German build quality and practical 4-people accommodation into a reasonably priced package. No one else had ever done that before - yes, Alfa Romeo Giulia GTV might be even more exciting to drive, but it was over expensive and lacked the BMW's reliability and space. From 1966 to 1977, BMW produced 850,000 units of the 2002 series. That's more than 4 times the number of Isetta series and each car enjoyed a much higher profit margin. The car not only brought BMW a big fortune but also established the winning formula for the subsequent 3-Series to follow. Obviously, it was the turning point in BMW's history.

The 2002 series started life in 1966 in the form of 1600-2 (the -2 in its name meant 2 doors). It was derived from the contemporary 1600 sedan, with rear doors deleted and wheelbase shortened by 50 mm to make it lighter and more agile to handle. Its 1.6-litre sohc engine produced 85 horsepower and enabled the 940 kg little car to outperform many contemporary sports cars, say, MGB. Its all independent suspensions (with MacPherson struts up front and semi-trailing arm at the rear) and front disc brakes were also unfound in any cars at the same price level, providing superb handling. On the other hand, 1600-2 provided all the practicalities of a sedan - a properly-sized rear seats, superb visibility (thanks to large windows and slim pillars) and big boot. Lastly but not least, it looked cult.

1600-2 received many appreciations from the press and the market. Sales exceeded BMW's expectation and production volume ramped up quickly to meet demand. But this was only the beginning. Next year, BMW introduced 1600ti, a hotter version of 1600-2. It used higher compression ratio and twin-choke Solex carburetors to raised the output to 105 hp. Now BMW was in place to challenge the sports sedan leader, Alfa Romeo Giulia GTV..

Because the 1600ti engine could not pass Federal emission regulations, it was not offered in the USA. With the huge potential of that market in mind, BMW developed a 2.0-litre engine for the car. Big engine in a small car, it became the mighty 2002. Various state of tune were available: the regular 2002 had a single carburetor to produce 100 hp, the 2002ti got 120 hp through twin-carburetors and lastly, a mechanical fuel injection and higher compression ratio helped 2002tii to squeeze out 130 hp. In the latter form, it could top 118 mph and did 0-60 mph in 8.2 seconds. It pushed Alfa Romeo Giulia GTV to the boxing corner…

Commercial-wise, the BMW was a clear winner. In 11 years, BMW produced 430,000 units of 2002, plus 270,000 units of 1600-2, 80,000 units of 1802 and 70,000 units of 1502 (which was the product of oil crisis). In contrast, Alfa Romeo produced 223,000 units of Giulia GTV and derivatives in 13 years.



2002 Turbo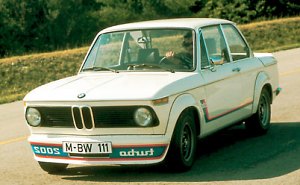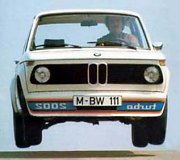 This car was the first turbocharged production car in Europe. It got a lot of power - 170hp - which allowed the car to sprint to 60 mph in a claimed 6.9 seconds. The engine was derived from the 2002tii, with compression ratio reduced from 9.5 to 6.9 and adopted sodium-cooled exhaust valves. A German-built KKK turbocharger was added to provide 0.55 bar boost pressure. Since it was the earliest turbo engine, it turbo lag was severe - boost didn't arrive until 3,800 rpm. When it came, the power surged suddenly - there is no waste gate to limit boost pressure ! this caused serious problem to handling in the form of wheelspin and oversteer, not even the limited slip differential could handle. It was therefore very difficult to drive.

Contrary to believes, 2002 Turbo did not have much impact to the automotive world. Its turbocharging technology was raw and pre-matured compared to the 1975 Porsche 911. Even BMW itself was not convinced to continue developing it for production use. After building only 1672 cars, BMW killed the car and put turbocharging on shelve. Since then BMW had never been keen to turbocharging technologies, with the exception of diesel engines and 745i turbo of the early 80s.