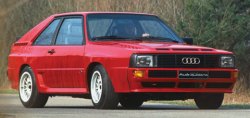 Since 1981, Audi stormed the rally world with its 4WD pioneering Quattro and established the reputation as King of the Hill. However, Quattro was not unbeatable. Its monocoque chassis was rather heavy. It was also unbalanced because its engine was mounted longitudinally at the nose. Moreover, it was unreliable, losing many races due to mechanical failures. In 1983, the Quattro was finally beaten by the rear-drive Lancia 037 in constructor championship. This proved that apart from the drivetrain a winning car also need a complete package. Therefore Audi went back to the drawing board and created an even stronger competition car, Sport Quattro. It was the most powerful rally car in history.

The Sport Quattro was derived from the Quattro, but it took advantage of the new FIA Group B regulation, which required manufacturers building only 200 cars for homologation. Naturally, participating car makers reversed the traditional way of developing racing cars. Instead of converting road cars to racing cars, they designed the racing cars first and converted them to road cars for homologation. Therefore in the mid-80s many super-expensive, super high-tech road cars were created. Unfortunately, with racing in first mind, these cars were usually roughly finished, ugly and not suitable for road driving.

The Sport Quattro was one of these cars. By Group B standard, its chassis was rather conservative. It still employed the steel monocoque of the Quattro, as was the front-engined configuration. To reduce weight and enhance nimbleness, Audi shortened its wheelbase by a massive 32 cm. This led to the very strange-looking appearance - it simply looked like a Quattro coupe with the center section chopped away ! Short wheelbase married with long front and rear overhangs, what a contrast to today's design philosophy ! besides, the windscreen was more upright than the Quattro, making it looked less sporty.

To improve balance, the 5-cylinder engine was converted to use an aluminum block. 4 valves per cylinder and a big KKK turbocharger running at 1.05 bar raised horsepower by more than one hundred. The engine capacity was reduced slightly to 2133cc (from 2144cc) because, after multiplying a factor of 1.4 for turbocharged engine as required by FIA, it slipped into the 3000cc category and, according to FIA's rule, allowed a lower minimum weight. The high-boost engine pumped out 306 horsepower in the road car. This allowed 0-60 mph to be done in just 4.8 seconds, faster than a Lamborghini Countach QV. Nevertheless, the wind-blocking rally car shape limited its top speed to 155 mph.

As money was no longer a limiting factor, the body of Sport Quattro was converted to lightweight materials, mostly Kevlar, plus some aluminium and glass-fiber. Like many Group B road cars of the time, it was very raw and difficult to drive on road. But who cared? this car was born as racing car in first mind. Among the 214 cars built, only 164 reached the hands of customers. Others were used as prototypes and racing cars.

The racing version of Sport Quattro was the most powerful car in world rally history. Its engine produced in excess of 500 horsepower and eventually 600 horsepower in later version S1. It won both the driver and constructor championship in 1984. However, only power was not enough. The Sport Quattro was still troubled by its front-engined handling disadvantage and poor reliability. In the next two years it could not keep up with the lighter and mid-engined Peugeot 205 T16 and Lancia Delta S4. As Group B was axed in the end of 1986, Audi simply withdrew from rallying. The Quattro era ended there.