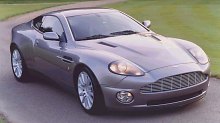 Honestly speaking, I am delighted that the 13-year-old Aston Martin Virage and Vantage have finally passed away. Many people, especially English patriots, praised its hand-build quality and sense of occasion, but they seemed forgotten that even Bristol have the same qualities, yet rarer and more expensive. When you consider the Virage's headlights came from the cheapest Ford and window frames that did not fit smoothly over the surface, you'll understand why James Bond chose a BMW Z8 instead, besides of advertising money. The point is, the V8 series was Aston's waiting-for-dying breed. DB7 is the real money maker.

However, someone always refuse to regard the DB7 as real Aston because of its mass appeal and relatively poor build quality. In fact, the smaller Aston is developed and built by TWR. The real Aston should come from Newport Pagnell, its own headquarters. Trouble is, what Newport Pagnell had was an old house and some experienced craftsmen but not engineering talents. How to develop a new age super grand tourer to take on Ferrari 550 Maranello and its successor with which the new Aston will face more during its whole life ? Luckily, Aston has been part of the Premier Automotive Group of Ford, and more luckily, with full support from PAG head Wolfgang Reitzle, the ex-BMW man. Reitzle's plan is to pour a lot of money into the flagship Aston, making it as advanced as possible in order to be the test platform for advanced materials and technology to be transferred to other PAG members such as Jaguar. Therefore whether the car lose money is not important. Production volume will remain low, about 300 cars a year, ensuring the rarity Aston customers always proud of.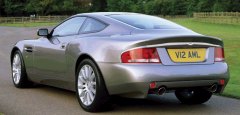 Designing a forward-thinking Aston is perhaps the biggest challenge. Actually, the name Aston can hardly link to the term "forward-thinking". Reitzle gave this challenge to the designer of DB7, Ian Callum of TWR. The latter did not disappoint him, resulted in a show car called Project Vantage which was eventually productionised to be the Vanquish. This is a really brilliant design, which houses a DB4-Zagato-style grille, DB7-style side vents and headlights to a handsome, smooth yet brutal body. The strong muscles over front and rear wheelarches deliver powerful messages in Aston's tradition, unlike the sexy, but rather girlie, interpretation of Ferrari. No front-engined GTs look better than this one. By the way, because of this car, Callum was given the position as head of Jaguar studio.
The chassis of Vanquish is the main experiment. Because of the aforementioned lack of engineering talents, it was designed and tuned by Lotus. Basically, the chassis tub that carries the cockpit, firewalls and mountings for suspensions are made from the same technology as Elise - extruded aluminium bonded by rivets and adhesives. It is produced in the same plant of Elise and Opel Speedster. However, aluminium tub alone is not strong enough to support the big V12 yet provides sufficient crash protection. That would have required very high and wide sills at both sides like the Elise thus made access difficult. Therefore Lotus pioneered an industry first - carbon-fiber transmission tunnel and windscreen pillars, they are bolted onto the aluminium tub and contribute a lot to chassis stiffness. The front structure is a mixed of aluminium castings and carbon fiber crash members. The inner bodysides are glass fiber made of new technique. At last, all these are covered by aluminium panels as in Aston's tradition, although they are now made by advanced superform technique rather than hand-beaten to shape by craftsmen. Under the body is a flat bottom and ground-effect tunnel near the tail.
As you can see, the chassis and body is a hybrid of various materials, more than any other cars ever tried. It should have been extremely light, but in fact the Vanquish tips the scale at a weighty 1835kg, which is 55kg heavier than the DB7 Vantage, let alone the 1690kg Ferrari 550. Although the Aston is undoubtedly stiffer than both, it is still questionable where the weight comes.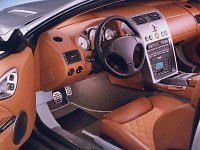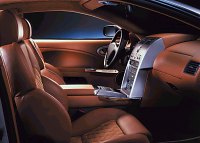 No matter how big Vanquish looks big from outside, the cockpit provides just acceptable space, blames to the low roof and wide tunnel. Tall drivers may find both head and leg room insufficient while short drivers will find visibility limited, especially the seats are not height adjustable. Most commentators criticised the cabin for lacking wood and hand-built feel. Admittedly, the air vents come from Volvo S80 and the whole center console is borrowed from Jaguar XJ8. On the positive side, the design is modern and special, with aluminium console housing, machined aluminium grab handles and everywhere else covered with leather. The white gauges look retro, thanks to retro markings and thick chromed rims. In contrast, the red starter button at center console seems modern. More so is the transmission paddles located at steering column.
Press the start button, the V12 comes into life. This engine is basically the same as DB7 Vantage, but by modifying camshafts, intake manifolds, valve gears and by introducing variable back-pressure exhaust, it extracts 40 more horses, hence total 460hp. Moreover, lighter crankshaft, flywheels and others not only quicken throttle response but also cut 18kg from the engine.
460hp from 5.9 litres is not very efficient by supercar standard, especially compare with Ferrari and Lamborghini's V12. One must remember that this engine is built by Cosworth from a pair of Ford Duratec V6s, without VVT (unlike Diablo), variable intake (unlike Maranello) as well as titanium connecting rods. However, this doesn't prevent it from singing beautifully. Having listened its howl, one must regard it more inspiring and more characterful than the Ferrari V12. It is louder as well, though not as loud as Lamborghini.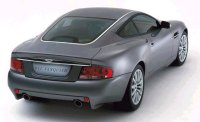 The claimed 190mph top speed is yet to be proved, but considering 460hp and Cd 0.35 this should be quite accurate. Autocar found the Aston reaches 60mph in 4.4 seconds (which matches the claim) and 100mph in 10.5 seconds, which means the Aston is quicker off the line than the Maranello but trail it at higher speed. Overall speaking, they are shoulder-to-shoulder close. Compare with the old supercharged Vantage 600, however, both of them are still a league slower. A Vanquish Vantage may be a good idea.
The way the Aston delivers its performance is particularly effortless, thanks to the super-smooth paddle-shift semi-automatic developed by Magneti Marelli. You might remember this is exactly the company developed Ferrari's F1 system. Expanding its service to Aston will undoubtedly make Ferrari jealous because not even the 550 has such equipment. This should be the strongest advantage for Aston. Basically, the unit is based on the 6-speed manual gearbox using by DB7 Vantage and Dodge Viper. Hydraulic actuator controls the clutch and gearchange, also works with engine management system to ensure the right rev during shifting. Like many of its kind, it offers Auto, Normal and Sport mode. At the latter, upshift takes a minimum 0.25 seconds to do. In isolation, this might be painfully slow compare with Ferrari 360 F1's 0.15 seconds and BMW M3 SMG's 0.08 seconds, but the compensation is that it upshifts and downshift seamlessly, much smoother than the Ferrari at least, thanks to a management program blipping the rev more accurately. A smooth V12 mates with a smooth, effortless transmission already ensures half of the success.
Apparently, another half of the success should be fulfilled by ride and handling. Responsible for this are the conventional double wishbones suspensions with forged aluminium control arms. As unsprung weight is low and suspensions are mounted on subframes, the Aston rides very comfortable by supercar standard. It can be described as firm, but most other supercars and super GTs are even more so - excluding the 911 Turbo. It deals quite competently with the poor British backroads, but its strength is still going effortlessly at high speed on motorway.
Enter a corner, you'll immediately realize the superior stiffness of its chassis. No matter how hard you corner, it still resist to twisting and creak. The steering is another delight - meatier and more communicative than Ferrari 550 yet without any kickback. The speed-sensitive assistance ensure NSX-lightness at normal speed and a reassuring weighting at fun time. Grip level from the 19-inch tyres are incredible. Agility is less so. Although it goes precisely where you point most of the time, you'll feel the car's weight. At the limit, it is not as well balanced as the Ferrari and could become wayward. Nevertheless, the unobtrusive traction control will take care of the extreme conditions.
The biggest flaw of the Vanquish is brakes - poor initial response, long pedal travel, spongy pedal feel and so-so stopping power. Having 1835kg to handle, 355mm front and 330mm rear disc might be insufficient.
Surprisingly, the summation of TWR designer, Cosworth engine, Magneti Marelli gearbox, Lotus chassis and dynamics resulted in a well integral package preserving the best of Aston's tradition. More luxurious and more relaxed to drive than a Ferrari. Not far behind in dynamic qualities. Aston's wealthy fans will love it. On the other hand, its edge-cutting technology and advanced look will attract new fans like us.