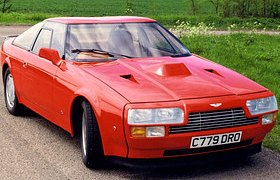 In 1986 Geneva motor show, an Aston Martin supercar was launched. This car was called "Zagato", but it was also generally referred to "V8 Zagato" or "V8 Vantage Zagato". From the name you can see its bodywork was designed and built by Italian coachbuilder Zagato, just like the DB4 GT Zagato of 1960.

However, the headline was that it had a top speed of 300 km/h (186 mph). That's enough to topple the contemporary Lamborghini Countach QV, Ferrari Testarossa and even Ferrari 288 GTO. In other words, it was the fastest car in the world until the arrival of Porsche 959 next year. The Zagato was a limited edition. Aston decided to build only 50 cars in order to guarantee its value. Each car was priced at £87,000, even more expensive than the £75,000 GTO. Despite that, all 50 cars were sold long before the production started. Later, Aston built another 35 units of convertible version, Zagato Volante. The substantial profit earned from these two batches of Zagato edition allowed the cash-shortage Aston to develop its next generation production car Virage and saved the company from dying.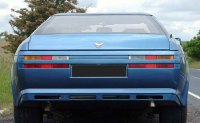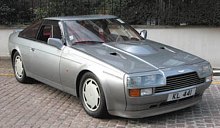 Beside the high-tech Ferrari 288 GTO, Zagato was an unlikely winner. Its chassis came from the aging V8 Vantage, with wheelbase shortened, rear seat discarded and 165 kilograms slashed (partly thanks to the composite body). The engine was still the 5340 cc V8, breathed through 2 valves each cylinder and fed by old-fashion Weber twin-choke carburetors (fuel injection was ditched because at the time the development could not muster enough power to realize the 300 km/h top speed). Larger valves, faster cams, 10.2:1 compression and Cosworth pistons raised its output from the Vantage's 370 hp to 432 hp, while torque peaked at 395 lbft. Admittedly, at the time Vantage had just upgraded to 405 hp by employing some of the same enhancement, but Zagato had its Weber carburetors enlarged from 48mm to 50mm, that accounted for the extra horsepower at the top end. That was also 32 horsepower more than the high-tech twin-turbo V8 of Ferrari GTO.

Apart from power, the Zagato also had an advantage in aerodynamics. Its composite body was styled and built by Zagato in Italy. A 1:4 scaled model tested in wind tunnel found Cd 0.29. This mean the production car was likely to be less than 0.31, remarkable for a supercar. Compare with V8 Vantage, its frontal area was also reduced by 7 percent. No wonder French magazine Sport Auto measured the Zagato topping 185.8 mph. It also found the car took only 4.8 seconds to accelerate from rest to 60 mph, again marginally faster than the Italian supercars.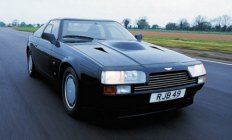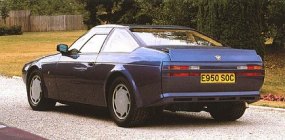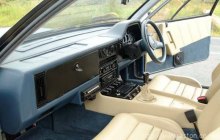 In addition to the torquey V8, Zagato's uprated suspensions and brakes made it great fun to drive on road. However, it could not match Ferrari GTO in handling, because it was tall, very heavy and quite front-heavy (with 58 percent weight put over the front wheels). The Zagato was therefore seen as a super-fast GT car instead of a super sports car. Naturally, it was easier to live with than the Italian supercars. Although its ride was hard and controls were heavy, its taller body provided a lot of interior room and a higher driving position. All round visibility was superb, thanks to the large glass area and narrow pillars. The interior was nicely trimmed and the leather seats were power adjustable. A useful luggage area was provided behind the seats. All these creature comfort and practicality were unheard for contemporary supercars.

The biggest problem was probably its look. In 2004 I saw a Zagato incidentally at Aston Martin's Hong Kong dealer (it was parked in the garage rather than the showroom, so I supposed not many passer-bys noticed this very rare exotic car). Unquestionably, its design was very unusual, but also very un-Aston Martin. Since the DB4 GT Zagato, we expected AM cars to be brutal but without going outrageous, muscular without losing subtle details. In the Zagato, everything was changed to angular and plane surfaces. In fact, its modern appearance might work better in a Japanese coupe than a prestige English supercar. However, the most controversial were the angular interpretation of Aston Martin's trademark grille and Zagato's trademark double-bubble roof. You can judge by yourself.

Anyway, the strange appearance could make the Zagato more recognizable among other AM cars. This is the rarest Aston Martin since the DB4 GT Zagato, and once the fastest car in the world. That's enough to guarantee its classic car status.