Aston Martin Vantage (1992)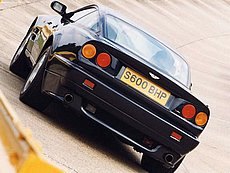 The later V600


The Aston Martin Virage line from 1988 to 2000 was never interesting to me. It was developed from a small budget (the money earned from the Zagato project) and in a short time frame. Its styling was outdated from the first day. The use of mass production parts - the headlamps and taillights came from Audi 100 and VW Scirocco respectively - compromised its styling integrity and prestige image. In the mechanical side, Callaway helped developing the 5.3 V8 into a quad-cam 32-valve unit good for 330 horsepower - unfortunately, tighter emission regulations and lack of expertise mean that it could not even match the old engine. The Virage was also seriously overweight and oversized. Ridiculously, the word "Virage" was chosen from French, meaning "corner", but corners were exactly where the car disliked.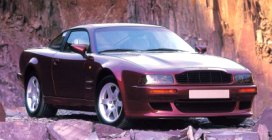 Left: V600 Volante; Right: the early 550 hp Vantage


Luckily, Aston introduced a super-powerful version in 1992, the Vantage. Traditionally, the Vantage label was reserved for the most powerful version of Aston Martin. This Vantage was no exception. It had its V8 boosted by two Eaton superchargers. The result was 550 horsepower and equally impressive 550 lbft of torque. All these tremendous forces could only be handled by the 6-speed manual gearbox from Chevrolet Corvette ZR1. A top speed of over 186 mph and 0-60 mph in 4.6 seconds brought Aston Martin back to the supercar club for the first time since Zagato. Aston claimed it recorded 191 mph during testing, which made it the fastest Aston ever built.

In 1998, the Vantage was uprated to Vantage V600, with the same engine boosted to 600 horsepower and 600 lbft of torque, very easy to remember. Now the car entered the 200 mph club. 0-60 was done in 4.3 seconds, 0-100 mph in 9.3 seconds.

Vantage was all about straight line performance. Weighing nearly 2 tons, it was by no means agile. People seeking a complete package would choose Ferrari 550 Maranello instead, which was also considerably cheaper. Many people - including me - saw the big Aston Martin flagship as overweight and overpriced. However, to the loyal customers of Aston, the Vantage represented the fastest and most powerful grand tourer Aston Martin ever made. It matched the traditional character of Aston more than the Zagato. Moreover, it was the last Aston Martin car to be built by hands in the old Newport Pagnell factory. Love it or hate it, the Vantage deserved a place in the classic car history book.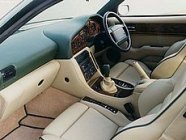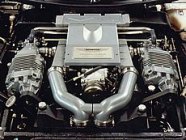 Specification
| | | |
| --- | --- | --- |
| Model | Vantage | Vantage V600 |
| Year of production | 1992-99 | 1998-2000 |
| No. produced | 280 units | 30 units |
| Layout, Gearbox | Front-engined, Rwd, 6M | Front-engined, Rwd, 6M |
| Engine | V8, dohc, 4v/cyl, twin-supercharger | V8, dohc, 4v/cyl, twin-supercharger |
| Engine capacity | 5340 cc | 5340 cc |
| Power | 550 hp | 600 hp |
| Torque | 550 lbft | 600 lbft |
| Weight | 1920 kg | 1970 kg |
| Top speed | 186 mph | 200 mph |
| 0-60 mph | 4.6 sec* | 4.3 sec* |
| 0-100 mph | 10.1 sec* | 9.3 sec* |

* Tested by Autocar


---
Copyright© 1997-2009 by Mark Wan @
AutoZine