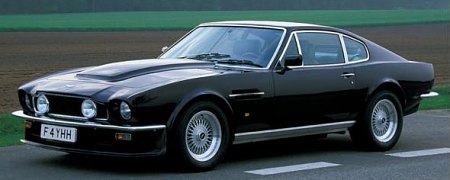 In 1972, Aston Martin launched a new 2+2 grand tourer called "V8" - note that the name lost "DB" because boss David Brown had already sold his company. The V8 departed from the early DB4 to DB6 very much in both design and powerplant. Outside, it looked far more aggressive and modern, though simultaneously retained some classical features to distinguish it from the space-age designs from Ferrari, Lamborghini and Maserati. Just like the architecture of London, the V8 looked partly modern and partly retro.

By the late 60s, Aston's inline-6 was no longer powerful enough, so chief engineer Tadek Marek went back to the drawing board and designed a heavyweight 5.3-litre V8 engine. This engine would be used by all Astons for the following 20 years. Initially, it pumped out 320 horsepower and especially strong torque in the tradition of Aston, enough to push the 1.8-ton car from zero to 60 mph in 5.7 seconds and top 160 mph. That made it the fastest British car of the time.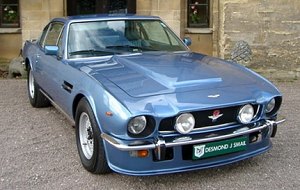 4 years later, an even more powerful version, Vantage, was introduced. Its V8 was uprated to 370 horsepower by using large Weber carburettors, larger valves, revised camshafts and higher compression. Performance raised to 170 mph and 0-60 mph took 5.4 seconds. While Ferrari 512 BB and Lamborghini Countach were hampered by tightened emission regulations, Aston Vantage emerged as the fastest production car in the world ! this was hardly believable from its part-retro shape.

In the mid-80s, the Vantage benefited from the development of its Zagato edition. Cosworth pistons, higher lift camshafts and 10.2:1 compression were made available to the Vantage and raised its output further to 405 horsepower. Top speed was close to 180 mph. 0-60 mph took only 5.2 seconds.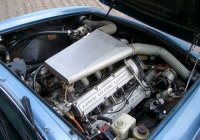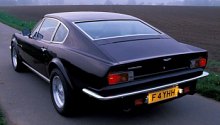 Unfortunately, the V8 line did not bring Aston prosperity. Hit by oil crisis, Aston went bankrupted in 1974. Production of the car resumed in 1976 in the hands of new owner, but sales was slow for the rest of its life. Due to the shortage of cash to develop its successor, the V8 survived for 17 years until 1989. A total production of 1607 cars might be impressive by Aston standard, but its average sales per year dropped significantly from the golden years of DB5. Therefore the V8 was never associate with a successful image. However, most of us will remember the heavyweight British GT was once the fastest car in the world.