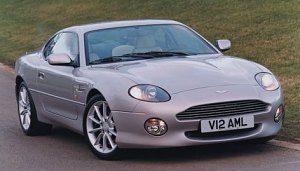 Hit by oil crisis, economic recessions and endless upgrading emission and safety regulations, Aston Martin was struggling for survival during the whole 70s and 80s. The sun finally came out in 1987, when Ford bought the company. Backed by the financial support from Ford, Aston Martin finally had money to develop a larger scale production model, DB7. This car didn't disappoint Ford and AM. It eventually found more than 7000 buyers during the next 11 years. DB7 was therefore the turning point of Aston's fate.

The development of DB7 was not done in-house, but by TWR (Tom Walkinshaw Racing), the company which developed and produced XJ220 for Jaguar, another subsidiary of Ford. Naturally, the XJ220 factory at Bloxham was transferred to Aston Martin for the production of DB7. The car was reported to be loosely derived from Jaguar XJS platform. It was a steel monocoque chassis with composite nose cone and bonnet. Its aluminum twin-cam 24-valve straight-6 was also derived from Jaguar's unit. Having 3.2 litres was not enough to Aston, therefore an Eaton supercharger was added to boost output to 335 horsepower. Besides, a strong and instantly available torque matched the tradition of Aston engines very much. The DB7 could top around 160 mph and do 0-60 in 5.8 seconds.

When Autocar magazine tested the DB7 in 1994, it praised it for beautiful, powerful and had a good combination of handling and ride. The car was designed by TWR design chief Ian Callum (who joined Aston Martin as design chief later). Many people regarded it as the most beautiful coupe at the time. That's also what I thought then, but in fresh the DB7 looked no where as attractive as, say, Ferrari 360 Modena. In the negative side, Autocar said it had a lot of rough edges - driveline shunt, heavy clutch and gearshift, a steering too aggressive and lacked feel, poor ergonomics, useless rear seats and small boot. The supercharger whine was also hardly inspiring for a prestige GT. This problem was finally solved in 1999 by the introduction of DB7 Vantage.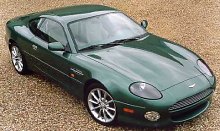 The Vantage version of DB7 gave up the supercharged straight-6 and went for a dedicated new V12 - although it was built by Ford and Cosworth by mating a pair of Ford Duratec V6s together. Displacing 5935 cc, the 48-valve V12 raised the game to 420 horsepower and 400 lbft. Happily, the car got only 30 kg extra weight. Performance now reached 185 mph and 5.2 seconds for 0-60 mph. Most significantly, 0-100 mph was shortened from 14.4 to 11.8 seconds.

Qualitatively, the smooth and responsive V12 was also a major advanced over the supercharged straight-6. Autocar also compared its sound quality with Ferrari 550 Maranello and found it more attractive to ears. Interestingly, its hollow, multiplayer sound resembled the mighty Ferrari Daytona even more than the 550M !

Of course, the DB7 Vantage was not as powerful as the Maranello product. It was also heavier and less sporty in chassis tuning. Put it straight, for handling and feel, it was not in the league of Ferrari. However, it was more relaxing to drive and ride more supple. Moreover, Aston priced it just marginally higher than the regular DB7 and way below the Ferrari. No wonder the Vantage was seen as a bargain and became instantly popular. Aston had to increase its production to meet the strong demand. It actually made the straight-6 redundant. Later that year, the six-cylinder DB7 passed away quietly. Now the V12 Vantage became the standard DB7.



DB7 GT






While the Vantage focused on engine, the DB7 GT launched in 2002 concentrated on improving chassis dynamics and sorted out all the rough edges not dealt before. The chassis was reinforced by 20 percent, suspensions received firmer dampers and bushings, while the location of front sub-frame together with steering rack was moved to improve steering geometry. These changes brought noticeable improvement to body control without hurting ride quality much. On highway, the revised boot spoiler and undertray reduced lift by 50% thus improved high-speed stability.

The drivetrain flaws were also sorted. A new twin-plate clutch operated more progressively and required less pedal effort. The gearbox received shorter throw lever. The V12 received reprogramming and a variable exhaust to boost power to 435 hp and 410 lbft. All these mean the GT went slightly faster and handled much better than the Vantage. This was the ultimate production DB7.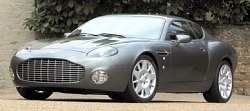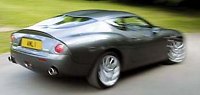 DB7 Zagato



Just before the DB7 retired, Zagato cooperated with Aston to produce two batches of limited edition model, DB7 Zagato and DB AR1. They had their chassis sent to Italy where Zagato put on its coachbuilt body and interior. Although priced at 60 percent more than the regular DB7 Vantage, each of them amounted to only 99 cars thus was quickly snapped up by Aston Martin's fans.

DB7 Zagato was available in Europe only. It was built on the DB7 Volante (convertible) chassis because the latter was easier to install Zagato's double-bubble roof. Zagato shortened its wheelbase by 60 mm and enclosed with its own aluminum body panels with unique design. The V12 was similar to DB7 GT, pumping out 440 horsepower. As the whole car was 60 kg lighter than Vantage, it was estimated to top 190 mph and accelerate from 0-60 mph in less than 5 seconds. However, the loss of chassis rigidity means it didn't handle as good as the GT.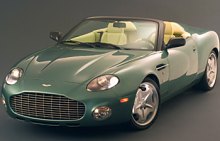 DB AR1


In contrast to DB7 Zagato, DB AR1 was designed for the American market only (its name stood for American Roadster 1). It was based on the standard wheelbase Volante and the GT's 435 hp engine. Strictly speaking, the AR1 was not a convertible, because it had no rain protection at all, not even a soft roof ! Therefore California was its main market.