Aston Martin DB5 (1963)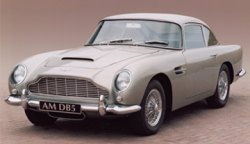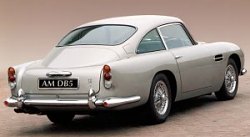 DB5 is even more famous than DB4 because it was featured in James Bond movie "Goldfinger" in 1964. In the film, it was equipped with machine guns at the front bumper, bullet-proof rear screen and a passenger ejector seat - Sean Connery used it to get rid of the bad guy sitting next to him ! the car started a tradition that every Bond movie must feature a fancy car. In return, the film made the DB5 a hit, with more than 1000 cars sold in just two years.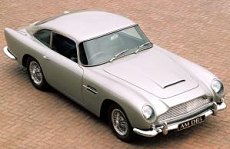 Unlike the radical Bond's car, the real DB5 was a small evolution from DB4. This evolution saw the Aston Martin continued to shift away from motor racing and towards the luxury side. The DB5 got more refined and better equipped, such as power windows. Its exterior look evolved to be more matured and elegant. The handcraft quality was even better. Inevitably, the car got heavier, so the straight-6 was enlarged to 4 litres and 282 hp to cope, while gearbox upgraded to 5-speed. Despite that, the car was only marginally quicker than DB4. 0-60 mph took about 8 seconds and top speed was 143 mph. Now Aston Martin can no longer compete with Ferrari for performance, especially no short-wheelbase version was produced.

A few years ago I saw a silver DB5 on the road of Hong Kong. The elegant style and quality of its aluminum body was hugely impressive, and it had a real road presence. Many Ferraris of the same period could look old and dated today, but the Aston grand tourer remained timeless, thanks to its classic shape and superb attention to details.

Sadly, DB5 lived for only 2 years. From DB6, Aston started looking for a new shape, which failed to match the beauty of DB4 and DB5.

Specification
| | |
| --- | --- |
| Model | DB5 |
| Year of production | 1963-65 |
| No. produced | 1,021 units |
| Layout, Gearbox | Front-engined, Rwd, 5M |
| Engine | Inline-6, dohc, 2v/cyl |
| Engine capacity | 3995 cc |
| Power | 282 hp |
| Torque | 288 lbft |
| Weight | 1502 kg |
| Top speed | 141 mph* |
| 0-60 mph | 8.1 sec* |

* Tested by Autocar


---
Copyright© 1997-2009 by Mark Wan @
AutoZine