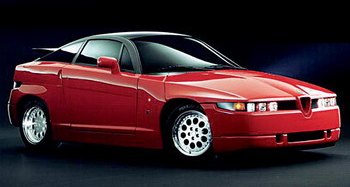 Coachbuilder Zagato used to be a good old partner to Alfa Romeo. Especially during the 60s, it helped Alfa building a lot of special edition models and racing cars, such as Giulietta SZ and Giulia TZ which you can find in this classic car archive. Nevertheless, since the 70s cars were converted to monocoque chassis. This made coachbuilding bodyworks very difficult and eventually led to the decline of Zagato. The 1989 Alfa Romeo SZ (stands for Sprint Zagato) was the last collaboration between the two companies.

The SZ was renowned for three things: exotic design, superb handling and remarkable drivability. These qualities made its owners proud and satisfied. Being a limited edition with only 1036 cars built also helped raising its classic car status today.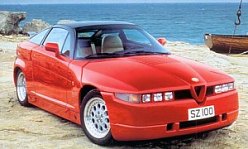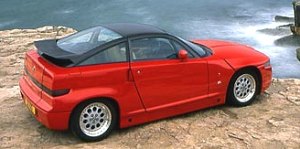 Highlight of the car must be its exterior styling, which was extraordinary even by the standard of Zagato. People either loved it or hated it immediately (Italian press even called it "monster"). I remember I belonged to the latter crowd then. But like most people, its look grew on me day by day. After some time, it appeared to be a successful design to me !

In fact, the styling was not by Zagato but by Fiat studio, which won a contest against Zagato and Alfa Romeo studio. Zagato did have a little contribution to the styling of production car, and it was responsible for the final assembly. Engineering work was done by Alfa Romeo itself, mainly its racing department Autodelta.

Mechanically, the SZ was derived from the last rear-wheel-drive Alfa saloon, the 75. It adopted the 75's fine running gear – de Dion rear suspensions, transaxle gearbox (both were succeeded from Alfetta / GTV6, by the way) and the superb 3-litre alloy V6. By then the Alfa V6 was still running sohc and 2 valves per cylinder, but in the SZ it was tuned up to 210 horsepower at 6200 rpm by enhancing intake, exhaust, compression and cam timing. Moreover, it maintained a very tractable torque curve. The gearshift quality of the transaxle (which used to be the weakest link of Alfetta, GTV6 and 75) was also improved significantly.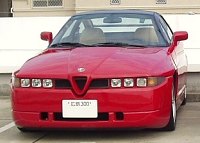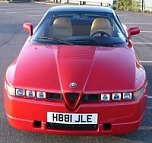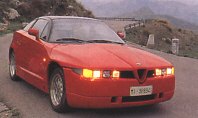 The chassis received equal concern. Based on the 75's steel frame, Zagato enclosed it with a bodyshell made of glassfiber reinforced plastic composites and an aluminum roof. The composites panels were bonded to the steel chassis by adhesive and contributed to higher rigidity. Aerodynamics was taken care by ground effect underbody designs and a carbon fiber rear spoiler. The car generated very little lift while drag coefficient reduced to an excellent 0.30. This made the claimed 152 mph top speed highly credible.

The suspension design benefited from the experience of the Alfa 75 touring car program. It adopted similar geometry and uniball joints. Besides, a hydraulic system allowed the driver to lower the ride height by as much as 50 mm to improve roadholding. Finally, SZ also employed stronger brakes and Pirelli P-Zero tires.

By contemporary standard, SZ was not very quick. It took 6.7 seconds to accelerate from 0 to 60 mph, slightly slower than Porsche 944 S2. However, its strength was handling. Excellent roadholding, stability and balance made it a superb driver's car, while the V6's smoothness, tractability and great sound added to a satisfying driving experience. From the exterior styling, Alfa Romeo SZ might look every bit uncompromising, but in fact it was a very easy-living exotic car.

RZ
Right after the production run of SZ finished, Zagato built another 278 units of convertible version called RZ. Like most convertible cars of its time, the RZ paid little attention to chassis reinforcement, thus it didn't handle as good as the coupe. Sadly, it also gained 120 kg from the coupe, thus hampered performance somewhat.

Alfa Romeo SZ / RZ was the last application of the Alfetta platform as well as the company's last rear-drive car. Since then all Alfa Romeos switched to front-drive (or optional 4WD) with transverse engine like most mass production car makers. They could hardly match the driver appeal of the earlier Alfas. SZ / RZ was also the last car Zagato created for Alfa. It was sad to end this partnership, but ending in a high note with such a fabulous car was probably the best way. Whenever car lovers see SZ / RZ on the road, they will recall the golden history of the Alfa-Zagato partnership.