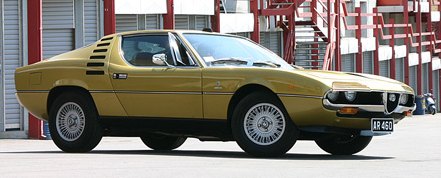 Since WWII Alfa changed to produce mainstream sedans and coupes, therefore the 1970 Montreal was a rare switch back to high-end sports car market. Powered by a 200 hp 2.6-litre quad-cam all-aluminum V8, it was the flagship model in Alfa Romeo's range.

The Montreal looked like a mid-engined coupe but it was actually front-engined. In fact, the concept car exhibited in the 1967 Montreal Expo was really mid-engined. It was designed by Bertone's rising talent Marcello Gandini. The show car used a 1.6-litre four-pot engine, but when the car went production it was replaced by a V8 and mounted up front. This allowed it to use the running gear of Giulia GTV, including the independent front suspensions and live axle rear suspensions.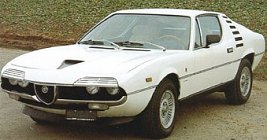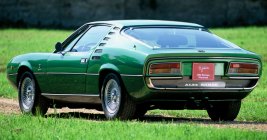 The engine was a production version of Tipo 33 Stradale's V8. It gained 600cc and longer stroke to improve torque and tractability, but horsepower was detuned to 200hp at 6500 rpm. As the car was rather heavy, its performance matched neither its look nor price. Autocar found the car took 7.6 seconds from zero to 60 mph, which was slower than contemporary rivals like Ferrari 246GT Dino, Porsche 911 S, Jaguar E-Type and, of course, Chevrolet Corvette. In the seas of excellent sports cars then, Montreal was not specially memorable. No matter judging it by journalists' comments or sales figures, it was not very successful.