Whenever talk about classic affordable coupes, Alfa Romeo Giulietta Sprint is hardly forgotten. Nimble handling, beautiful balance and a wonderful engine (the world's first mass-produced twin-cam engine) made it to be one of the stars from the mid-50s to early 60s.
In the 50s, the rebuilt Alfa Romeo changed to produce mass production cars. By then it desperately needed a light and nimble 2-door coupe to enter races and revive its pre-war reputation. The result was Giulietta Sprint. The Giulietta family comprised of Belina (sedan), the Sprint (coupe) and Spider (convertible). The Sprint was designed by Bertone and looked prettier than the Pininfarina-designed Spider. It was also stiffer and lighter than the Spider, so it was extensively used in motor racing.
Focus of the car was the light alloy twin-cam 1.3-litre engine. In early form it produced 65 horsepower, very good by the contemporary standard. However, better still was Sprint Veloce (means "fast"), which arrived in 1956. Its engine was raised to 90 horsepower by adopting 9.3:1 compression and twin Weber carburetors. The car also received lightweight perspex windows and aluminum bonnet, trunk lid and doors to drop its weight to 890 kg. This made the car truly fast.
Giulietta Sprint Zagato (SZ)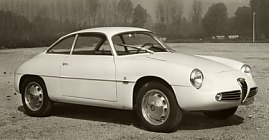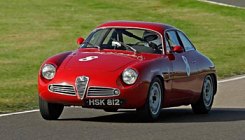 Best of the best is the Zagato version. It was said that one Sprint Veloce was crashed in a race and damaged its steel bodywork seriously. The car was took to coachbuilder Zagato, which rebuilt the car with a beautiful all-alluminum body. A handful of cars were produced in this way to satisfy the demand from racing drivers. Eventually, Alfa Romeo supplied the floorpan to Zagato for producing the Sprint Zagato, or SZ, officially.
The SZ's engine was still the 1290 cc twin-cam, but 9.7:1 compression raised power to 100 hp. Thanks to a shorter wheelbase and aluminum bodywork, it was about 100 kg lighter than the Sprint Veloce. About 200 cars were produced during 1960-62, most were used by their owners to participate touring car races all over the world.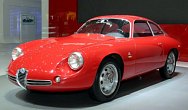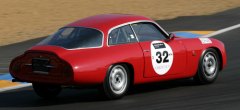 The series 2 Giulietta Sprint Zagato with enhanced aerodynamics
Later Sprint Zagato (from 1961) received a more aerodynamic efficient body, with smoother nose and a longer, streamline tail in particular. It also got Alfa's first disc brakes.