In the latter half of 1960s, Alfa Romeo had another formidable coupe to succeed Giulietta Sprint. This was Giulia GTV. In racing form GTA, it won four European Touring Car Championship in 1966, 67, 68 and 70. The road car was also highly praised for strong performance, good handling and everyday practicality. From 1963 to 1976, as much as 223,000 cars of various versions were sold.

In 1963, Bertone's young designer Giorgetto Giugiaro designed the Giulia Sprint GT coupe from a shortened chassis of Giulia sedan. The car ran a 1570 cc twin-cam engine good for 106 horsepower and 112 mph. A couple of years later, the engine was tuned to 109 hp and the car was called Sprint GT Veloce (means "fast"), or simply Sprint GTV. This started the famous label GTV which is still being used today.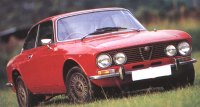 The GTV employed independent front suspensions with lower wishbones and a live axle rear suspensions like many contemporary coupes. Nevertheless, the front suspension mountings were easily adjustable while the live axle was made pretty light. Disc brakes were employed in all wheels to provide excellent stopping power. That was a very high-spec equipment by contemporary standard, just like today's ceramic brakes. Moreover, Alfa's lightweight all-alloy engine was always a benefit to chassis balance, no wonder the Giulia GTV handled brilliantly on the road as well as in racing circuits.

Highlight of the GTV was the sweet revving twin-cam engine and the quick shifting 5-speed synchromesh gearbox. Their quality was yet to be matched by contemporary British sports cars as well as BMW 1600ti. However, the competitors were developing larger and more powerful engines, therefore in 1967 Alfa Romeo upgraded the 1.6 engine to 1779 cc and 118 hp. The car became Giulia 1750 GTV. It can be distinguished from earlier GTV by the 4 circular headlights (in contrast to two) and a 30 mm longer wheelbase to boost interior space. By 1970, an even faster model joined the range - 2000 GTV. It was powered by a 2-litre 132 hp version of the twin-cam engine. These two cars had really strong performance thus were the favourite among the Giulia GTV family.

Also worth noting is that due to tax reasons, the majority of the fast Giulia sold in Europe was the GT 1300 Junior. It used a 1290 cc 89 hp engine. The original short-wheelbase bodyshell, twin headlights and the smaller engine meant it weighed only 930 kg, about 110 kg below a 1750 GTV, so it still had enough performance to please their drivers. Although it was never called a GTV, we still regard them as a member of the Giulia GTV family.

The GTV's success can be indicated by its high price - the 1750 GTV was sold in UK for £2248 in 1968. That was much dearer than the contemporary Lotus Cortina (£1162), Fiat 124 Coupe (£1438), BMW 2002 (£1597) and even Lotus Elan +2 (£2119). It simply matched a Jaguar E-Type (£2300) !! Despite that, Alfa Romeo still sold 44,000 units of 1750 GTV and then 37,000 units of 2000 GTV. If it were not so exciting to drive, how could it have achieved that?