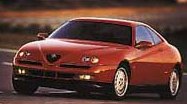 Designed by Pininfarina, Alfa GTV was seen as one of the most beautiful cars in the 1990s. It was assembled in Pininfarina's plant at Turin together with its convertible version, Spider.

In the early 90s, Alfa faced an identity crisis. Since the departure of 33 and 75, Alfa's small and medium sized cars were derived from the Fiat Tipo platform – a low cost, front-drive platform employing MacPherson strut and trailing arm suspensions and Fiat's Super FIRE engines. This made 145/146 and 155 lost the unique character of Alfa Romeo.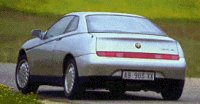 At that time, Fiat group CEO Paolo Cantarella had started an image revolution on his products. He needed an excellent coupe to help Alfa re-establishing its sporty image. The first car to be benefited was the 1995 GTV. He hired Pininfarina to design a beautiful body which contrasted so much with the 155. It took no clues from any previous Alfa Romeo, but its triangular corporate grille, sleek nose and small quad circular headlamps created a sensation, as were the crease lines rising at both sides. The design made a great balance between plane and curve surfaces to create an elegant yet purposeful shape. This beautiful design led the revival of Alfa Romeo styling. In the next 10 years, Alfa became a leader in automotive styling together with Audi.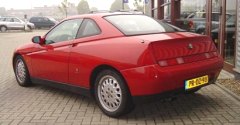 Originally, the new GTV was planned to share the Tipo platform like other Alfa Romeo small and medium-sized cars. Fortunately, when Cantarella test drove the prototype, he felt unsatisfied with its handling and ordered his engineers to switch to a more advanced suspension: a multi-link type rear suspension mounted to the chassis through an aluminum subframe. Its geometry and bushings were set such that it could generate passive rear wheel steering in corners. In the initial phase of cornering, the centrifugal force steered the rear wheels in opposite direction to the front wheels in order to sharpen the turn-in. Then, as centrifugal force continue to build up through the corners, the rear wheels steered in the same direction as the front wheels to stablize the car.

Thanks to this advanced suspension, the GTV steered and gripped as well as the contemporary BMW 3-Series coupe, which was unquestionably an achievement for a front-drive coupe. The GTV was also praised for its quick and communicative steering.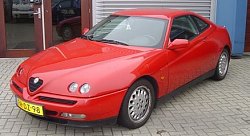 Another strength of the GTV was engines. Few cars have a world class engine. Even fewer have 2 world class engines. Alfa GTV was one of them. The entry-level powerplant was a 150 horsepower 2-litre 16V. It was derived from the group's Super FIRE family but added with Alfa's own cylinder head, intake and exhaust manifolds to produce the right sound. Alfa's trademark twin-spark mated with the latest intake variable valve timing and twin-balancer shafts resulted in a smooth and eager power delivery. On the one hand, it could spin happily to 7000 rpm. On the other hand, it delivered 90% of its maximum torque from 2500-6200 rpm. But most importantly, it sang like an Alfa engine. It was regarded as the best four-cylinder production engine in the world.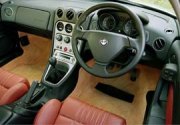 The GTV 2.0TS could top 130 mph and sprint from rest to 60 mph in 8.0 seconds. If it sound not GTV enough (you may remember the "V" stands for Veloce or fast), people could choose the flagship 3-litre V6, another world class engine. Alfa V6 had been renowned for power, free-revving and sound quality since the original 1981 GTV6. This character was maintained in the 3-litre version, and its 24 valves design raised maximum power to 220 hp and enabled a 6.6-second sprint from 0-60 mph. It was the nightmare to the contemporary BMW 328i coupe.


Compare to GTV, the Spider was less lovely. It was heavier and lost much of the coupe's rigidity hence handling precision. Moreover, the Pininfarina styling didn't work as well in convertible form.

The duo lived a very long life for 10 years. At the 8th year, Alfa refreshed them with a styling tweak (most apparently a shield grille resembling 147) and new generation engines consisting of a 165hp direct-injection 2.0 JTS and a 240 hp 3.2-litre version of the V6. By then the chassis was already showing its age, but its beautiful look remains a classic today.