Alfa Romeo Duetto / Spider (1966)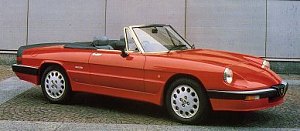 The '83 Spider was probably the most beautiful of all versions
Remember the car driven by Dusty Hoffman in Hollywood film "The Graduate"? That's Alfa Duetto. The Pininfarina-penned roadster was unquestionably one of the most beautiful cabriolet designs ever appeared. It was also an evergreen model, being produced from 1966 to 1993, with a total of 124,000 cars built.

Duetto was designed and produced by Pininfarina based on the chassis of Giulia. Its fabulous 1570 cc twin-cam alloy engine also came from Giulia Sprint 1600 GTV. Technically, there was little breakthrough compare with Giulietta Sprint and Giulia GTV because it was not designed to be a race car. But its lovely styling, sweet engine and gearbox made it the most beloved roadster of the time together with Lotus Elan.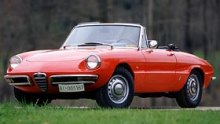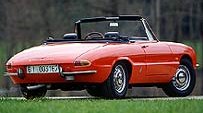 The original Duetto


Strangely, the name Duetto was dropped after just 1 year. In 1967, Alfa started calling the car Spider. In the following 27 years of its life, the engine grew to 1750 cc and eventually 2000 cc to compensate tighter emission control and increased weight. The body also evolved gradually: the long long round tail was chopped in 1969; the plastic headlamp covers were discarded in 1974; black plastic bumper with integral grille was used from 1983. Although many people considered the early cars more beautiful, I actually prefer the more modern, sportier shape of the post-83 Spider. Unfortunately, the last revision in 1990 ruined its sleek shape by using a rectangular (though body-colored) bumpers. Today, looking back to the evolution of Spider, we can see how the history of automotive styling developed from the 60s to the 90s, and unfortunately, how safety laws ruined the golden era of automotive styling.


The original Duetto
Specification
Model

Duetto Spider 1600

Spider Veloce 1750

Spider 2000

Year of production

1966-67

1967-71

1971-82

No. produced

All versions: 124,000 units


Layout, Gearbox

Front-engined, Rwd, 5M

Front-engined, Rwd, 5M

Front-engined, Rwd, 5M

Engine

Inline-4, dohc, 2v/cyl

Inline-4, dohc, 2v/cyl

Inline-4, dohc, 2v/cyl

Engine capacity

1570 cc

1779 cc

1962 cc

Power

109 hp

118 hp

133 hp

Torque

105 lbft

N/A

134 lbft


Weight

996 kg


N/A

1018 kg

Top speed

109 mph


116 mph


116 mph* / 119 mph**


0-60 mph

11.3 sec

9.2 sec


9.8 sec* / 8.8 sec**

* Tested by Autocar
** Tested by CAR


---
Copyright© 1997-2009 by Mark Wan @
AutoZine