Alfa Romeo 8C 2900B (1937)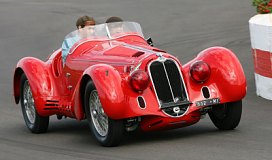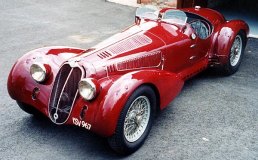 8C 2900B Mille Miglia


If you ask me which car was the most exotic supercar in the pre-war era, my answer will always be Alfa Romeo 8C 2900B. Like Ferrari F40 of our time, the 1937 8C 2900B was a road-going racing car, employing sophisticated technologies such as all-independent suspensions, transaxle gearbox, double overhead camshafts engine with dry sump lubrication and twin superchargers. With an estimated top speed around 125 mph, it was also the fastest road car before WWII.

The car was developed from the 1935 8C 2900A racing car. To adapt to road use, it adopted a longer wheelbase and lower compression ratio engine. The car ran a straight-8 engine like many pre-war sports cars (such as Bugatti). However, to deal with the tremendous twisting force at the long crankshaft, Alfa constructed the engine from a pair of inline-4 engines and slotted the valve gears at the middle of the engine. A pair of roots-type superchargers boosted its power to 180 hp in road trim and 220 hp in racing trim (with higher compression).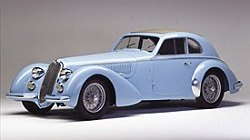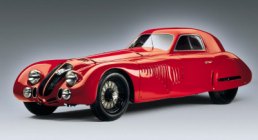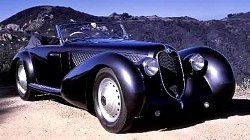 Left to right: 8C 2900B Lungo Touring Coupe, Le Mans and Convertible road car


8C 2900B was extremely rare, with only 43 road cars and racing cars built from 1937 to 1939. Moreover, these cars were coach built in various body styles, such as the pictured Mille Miglia and Le Mans racing cars, and the road-going convertible and Lungo Touring Coupe. This make every car so precious to collectors.

The racing history also helps its value. Under the management by Enzo Ferrari, it won countless of victories in various events, such as the Brazilian GP, Spa 24 Hours and several years of domination in Mille Miglia.
Specification
| | |
| --- | --- |
| Model | Alfa Romeo 8C 2900B |
| Year of production | 1937-39 |
| No. produced | 43 |
| Layout | Front-engined, Rwd. |
| Gearbox | 4M |
| Engine | Inline-8, dohc, 2v/cyl, twin-supercharger. |
| Capacity | 2905 cc |
| Power | 180 hp |
| Torque | N/A |
| Weight | 1134 kg |
| Top speed | 125 mph (est) |
| 0-60 mph | N/A |
---
Copyright© 1997-2009 by Mark Wan @
AutoZine